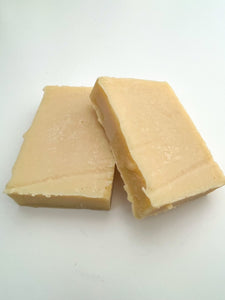 60 percent shea butter with super lather. Sign me up! The obsession with shea butter is real but my love for shea butter soap is "realer" (not a word, but it is today)

This creamy shea butter body bar is made up of a whopping 60 percent providing maximum moisture to the skin.
The body bar is scented using a baby powder fragrance oil giving you those powder fresh vibes.
Ingredients: Saponified (Shea butter, Olive oil, Cocoa butter, Coconut oil), Baby powder fragrance oil.
How To Use: I always recommend doing a skin patch test before applying the soap all over your body. For a skin patch test, lather a small amount of soap with water and apply it on a small area of your body. If irritation or itchiness occurs, rinse the soap off immediately.

Consistently use this regimen for optimal skin results.