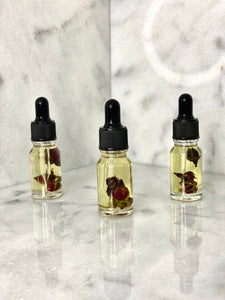 The Luminous Rose Oil is a multi-purpose oil for skin inflammations, hydration, eczema, hyperpigmentation, white heads, uneven skin tone, and evens out skin texture.
Great for All Skin Types! 
This product is vegan, cruelty-free, cold-pressed, organic, and formulated without water, alcohol, silicone, or gluten.
This formulation uses 100 percent pure rosehip seed oil— rich in linoleic acid, linolenic acid, and pro-vitamin A—that is both cold-pressed and organic. This oil has been shown to reduce signs of photo-aging and many other skin conditions.
Rose Hip Seed Oil is completely unrefined and imparts a beautiful natural scent partly due to its high omega fatty acid content.
How To Use: Apply 1-2 drops to your damped face once a day, ideally after cleansing during your night time routine. 
Ingredients: Avocado oil, almond oil, vitamin E oil, rose hip oil, and dried roses
Size: 1 oz